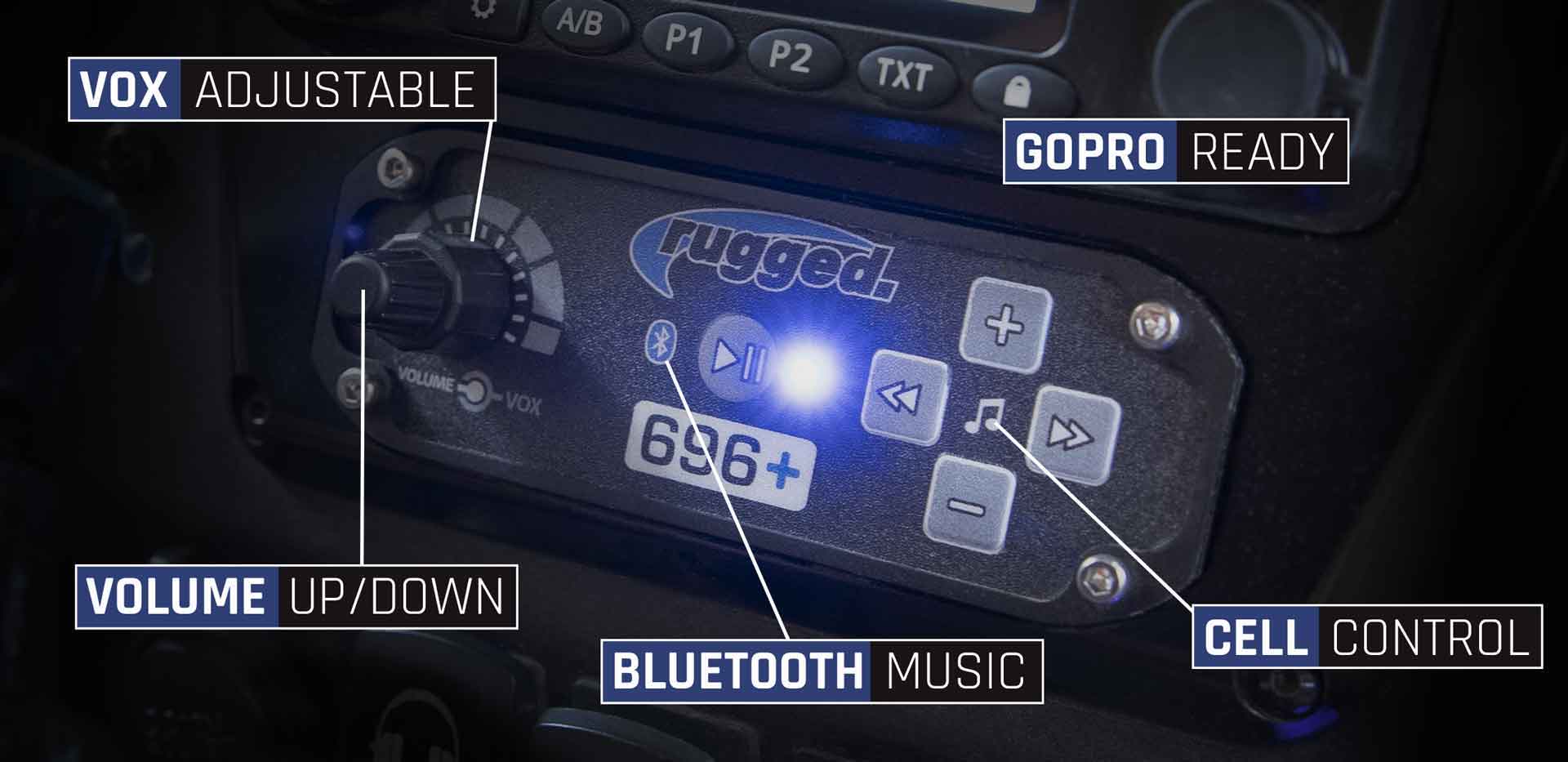 New and Improved 696 PLUS INTERCOM
with Upgraded Bluetooth for true High-Fidelity Music
Introducing the Bluetooth enhanced 696 PLUS intercom featuring True High-Fidelity Music. Built upon Rugged's proven recreation intercom platform, the all new 696 PLUS is upgraded to allow off-roaders the ability to talk freely in a loud vehicle, connect a two-way radio, answer phone calls, and stream music into a headset or helmet.
---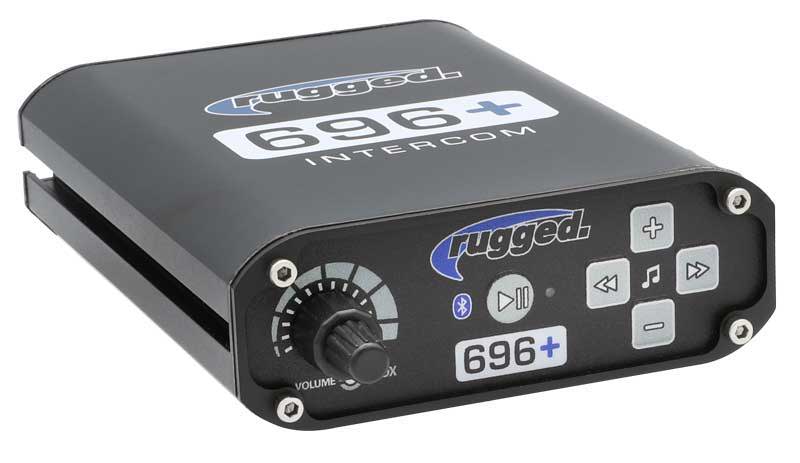 Freely talk between passengers
Enhanced Bluetooth module for True High-Fidelity Music*
Total Cell Phone & Music Control interface
Upgraded ergnomic Volume & VOX controls
Upgraded Fine-tuning VOX operation
Additional crew port for 5-seat vehicles
3.5mm audio output for sound system integration & in-car audio recording
Next Generation electrical interference shielding
Two-Way Radio Ready
*Tip for Music Lovers: For optimal audio performance, listen to downloaded music. Streaming content results in reduced audio quality. 
---
Rock while you ride with the Bluetooth enhanced 696 PLUS Intercom featuring True High-Fidelity Music.
An upgraded interface allows for Total Cell Phone & Music Control. Redesigned, ergonomic Volume and VOX control allows for fine-tune adjustments on the fly. The 696 PLUS intercom allows you to talk to passengers without yelling or pushing any buttons, directly through a headset or helmet kit. Just start talking and the auto music-dimming will lower the music volume and resume once the conversation has ended, making this the ideal intercom for in-car communications. Additional crew port makes this the perfect intercom for cars with 2 to 5 seats!
Connect your phone or tablet via Bluetooth for music and phone calls. Easily pair to Ride Command for GPS navigation audio prompts and music. The enhanced Bluetooth module provides True High-Fidelity audio – making the 696 PLUS the best intercom for music lovers! Enhanced music controls allow you to quickly adjust volume or shuffle through your music directly from the front of the intercom.
Integrated 3.5mm audio output makes it easy to record in-car audio directly to a GoPro or other recording device! Also, conveniently send intercom audio (music, 2-way radio, and voice) to a sound system or external audio amplifier.
Great for recreational offroading, the 696 PLUS features an RF shielded housing making it compatible with Rugged UTV specific mounts for RZR, Can-Am, Honda, and Yamaha or a universal faceplates for sandcars, Jeeps, prerunners, and more. The Next Generation electrical interference shielding makes this the top performer on newer vehicles with high-noise electrical systems including active suspension.
Rugged built, the 696 PLUS will outperform your expectations with ease of use and clear communiucatons in any environment!
Click here to view the User Manual
---
Intercom: Simply put, the intercom is the central communications hub for your car.
Headsets/Helmet Kits: Plug your headsets into your intercom and now you're talking over the noise! Using a helmet? Our helmet kits conveniently add speakers and a microphone to any helmet. Install, plug in, and start talking.
2-Way Radio: Need to talk to other cars or transmit to base camp? Easily connect your 2-way radio to the intercom and use your headsets and helmet kits to talk.
Push-To-Talk (PTT): Adding PTTs to your car gives you 2-way radio communications within reach. Simply place your PTT within reach, press the button, and now you're talking to other cars. Push to transmit.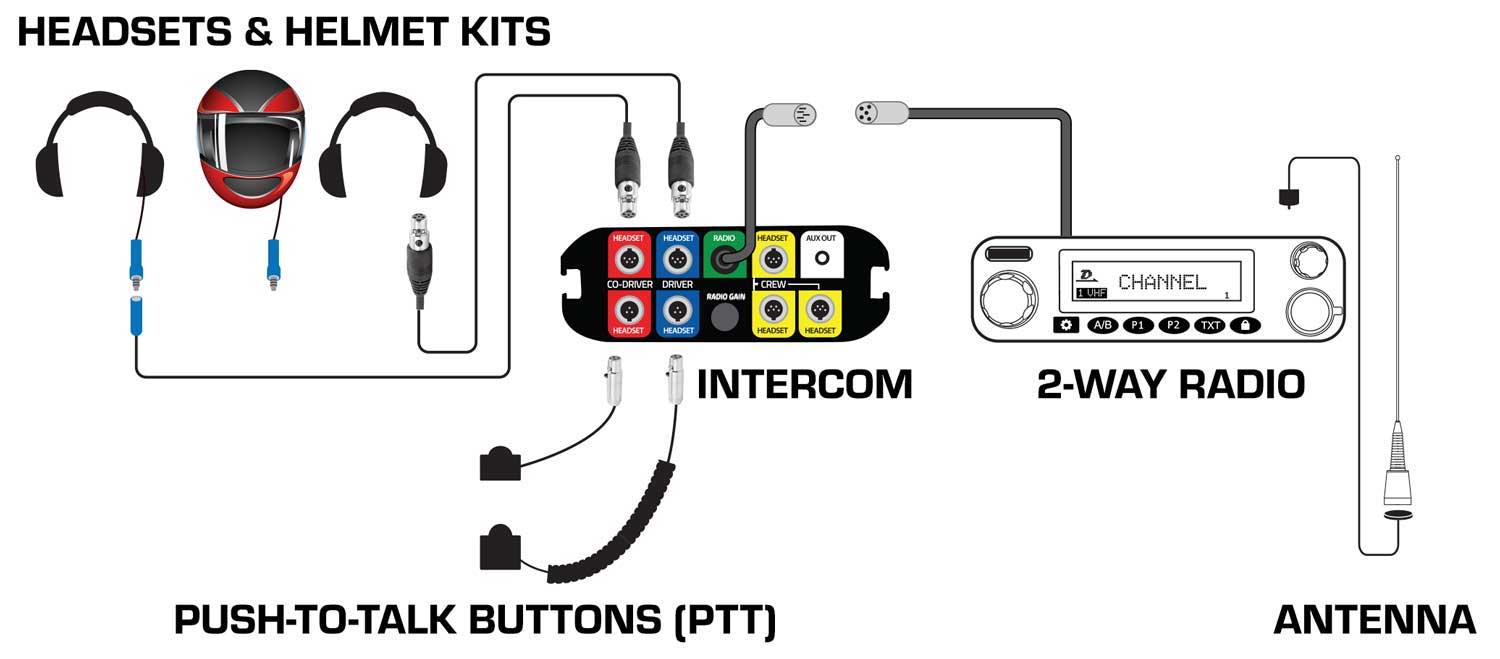 ---
TOP SELLING INTERCOM BUNDLES & ACCESSORIES
Complete communication solutions allow everyone in the vehicle to communicate hands-free with headsets or helmet kits while 2-way radios provide communications up to 30 miles and more!
UTV and Side by Side Communications has become the standard for enthusiasts and the most popular area of service for Rugged Radios.
---
---
Builder kits offer the essential intercom solution for those with existing wired helmets or headsets. Most kits include Push-to-Talk buttons to pair with your two-way radio.
---
Expand your two-person intercom system to 4 persons with these simple expansion packs. All kits include headsets or helmet kits with extended length 16' cables for rear seat applications.
---
---