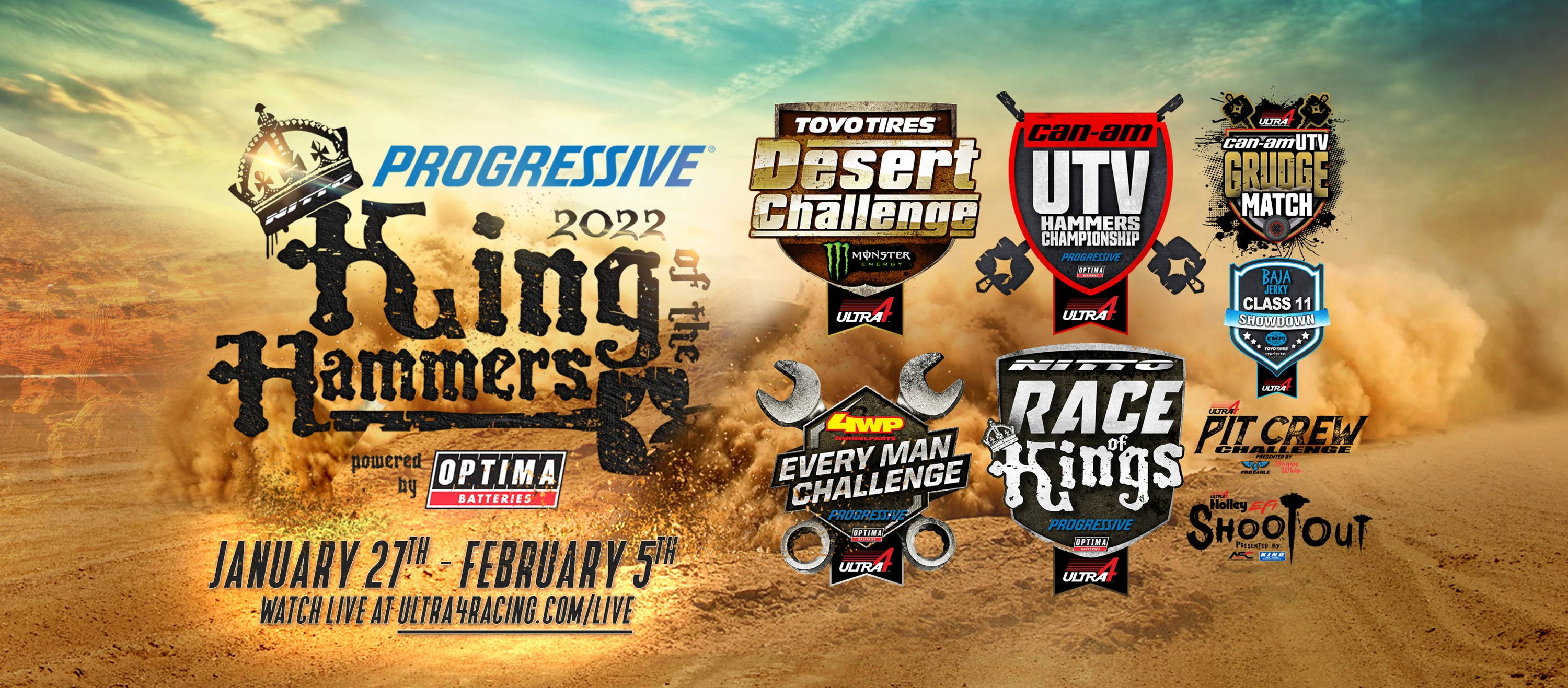 Over the course of 11 days, "Hammertown USA" is brought to life on the lake bed in Johnson Valley, CA. Off-road enthusiasts from all over flock to the 96,000 acre off–highway vehicle (OHV) riding area to watch racers partake in the perfect combination of desert racing and rock crawling: Ultra4 Racing's King of the Hammers (KOH).
Team Rugged racers fought their way to the top, with many finishing atop the podium of multiple races during the wildest, dustiest week of the year.
1st Place - Class 11 Showdown
Winner - Rugged Cash Cup
Winner - Class 11 Pit Crew Challenge    

There was excitement left and right for Blake Wilkey at this year's King of the Hammers race, starting with the lake bed debut of his one-of-a-kind Trophy Bug. His first win of KOH came during the Baja Jerky Class 11 Showdown Presented by EMPI that had "more cars, more hype, and more pressure" compared to past years. Blake and his co-driver Kevin Butts were reigning champs and knew they needed to grind in order to defend their title in Slug Shark.
To up the ante and add to the hype, Rugged Radios added the incentive of a $1,000 Rugged Cash Cup to the first racer to cross the finish line in the Showdown with Flat Greg on their car.
"I feel like Flat Greg gave me an edge and some extra intimidation for other racers as a psych out," Wilkey enthusiastically explained. "I used the Rugged Cash Cup for a cocktail later that night to break it in right and as for the cash, I gave that all to my crew as a thank you!"
The Rugged Cash Cup was available to all Class 11 racers, but having Flat Greg win the race with Team Rugged is super cool.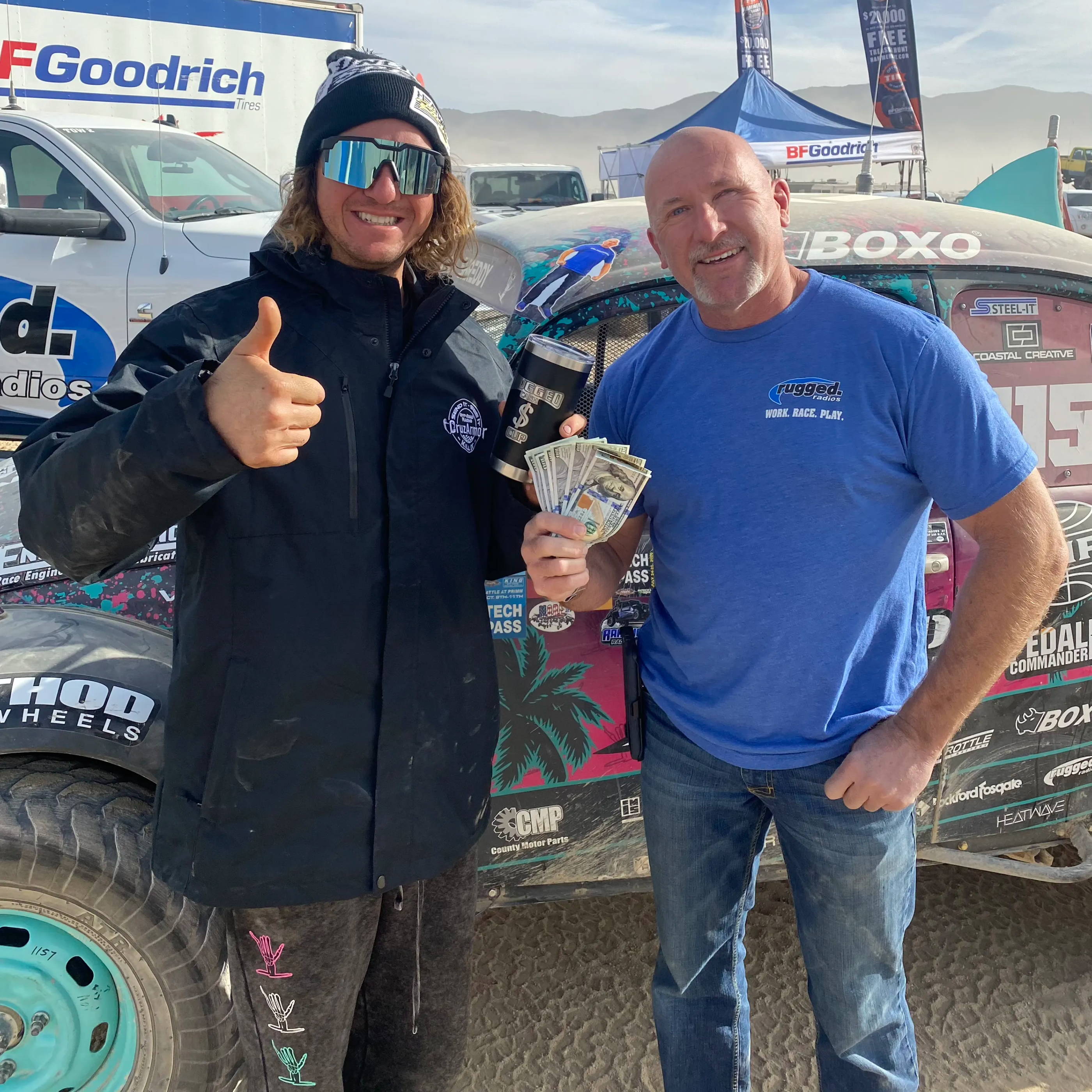 "It's honorable to be a part of Team Rugged, since they are the largest brand in the industry," said Wilkey. "It keeps me wanting to do my best, and not having to worry about their products is a huge confidence booster!"
Being cool, calm, and collected throughout the 20 laps of the Class 11 Showdown is important. The MAC Air Pumper System, 6100 Race Intercom, and M1 RACE SERIES Radio Kit are just a few Rugged products that helped Wilkey kill it in the Showdown.
"Our fresh air system kept the helmet clean for great visibility and, well, fresh air. The 6100 Intercom kept Kevin and I in tune the entire race. Our M1 race radio allowed the crew to let me know time splits as well as laps which allowed us to set a comfortable pace."
His next victory came as sweet redemption during the Pit Crew Challenge Presented by Pro Eagle and Buggy Whips, after a timed out Switch Pro and a battery switch reset cost them the win last year.
"Pit Crew Challenge is always fun and intense. We made sure [there were no mishaps] this year and brought it home amongst Richard Sletten in the finals," he said. "Felt good to win it since we thrash on the daily. I was going to kick myself in the pants if we didn't hold it down!"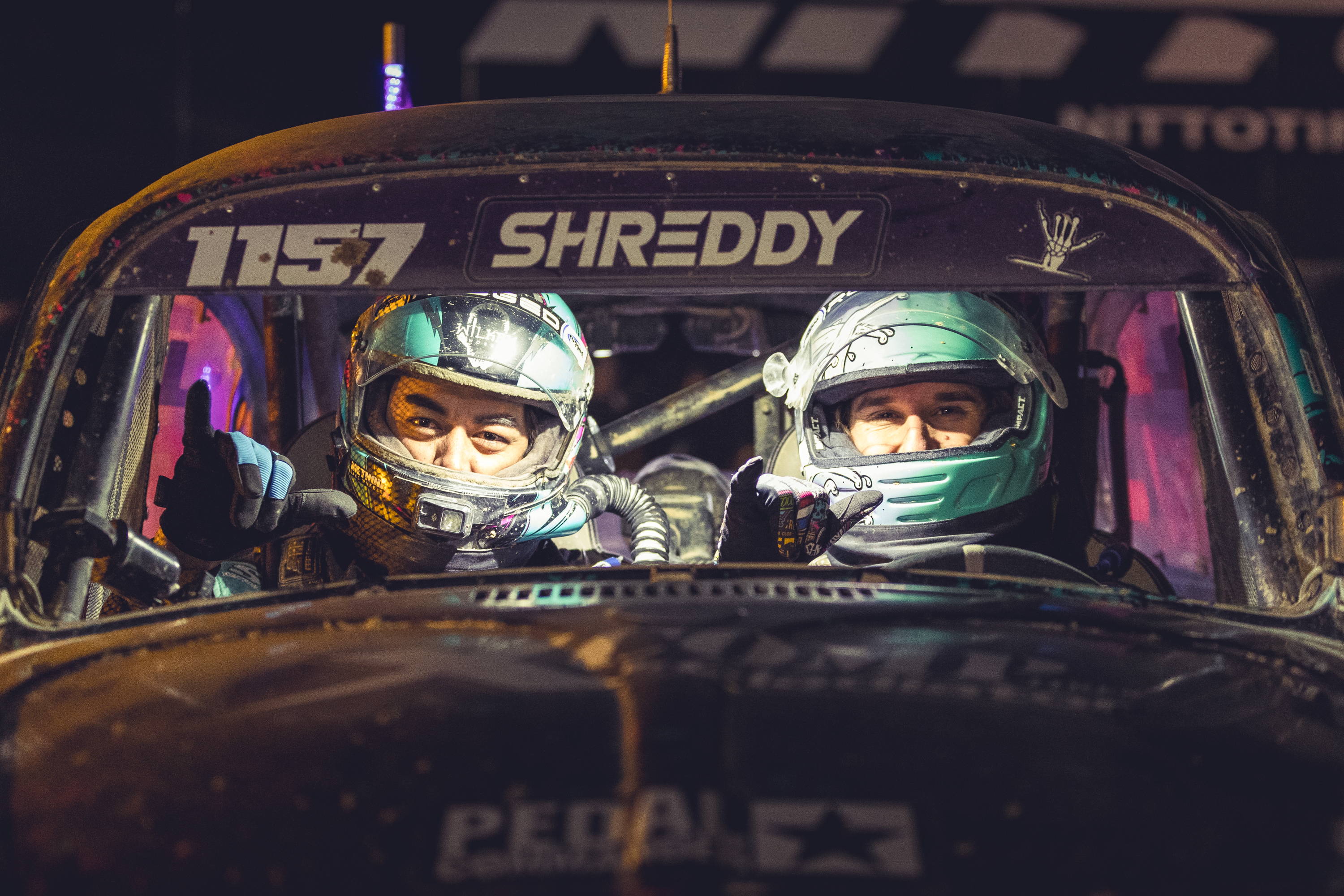 Photos courtesy of Evan Walsh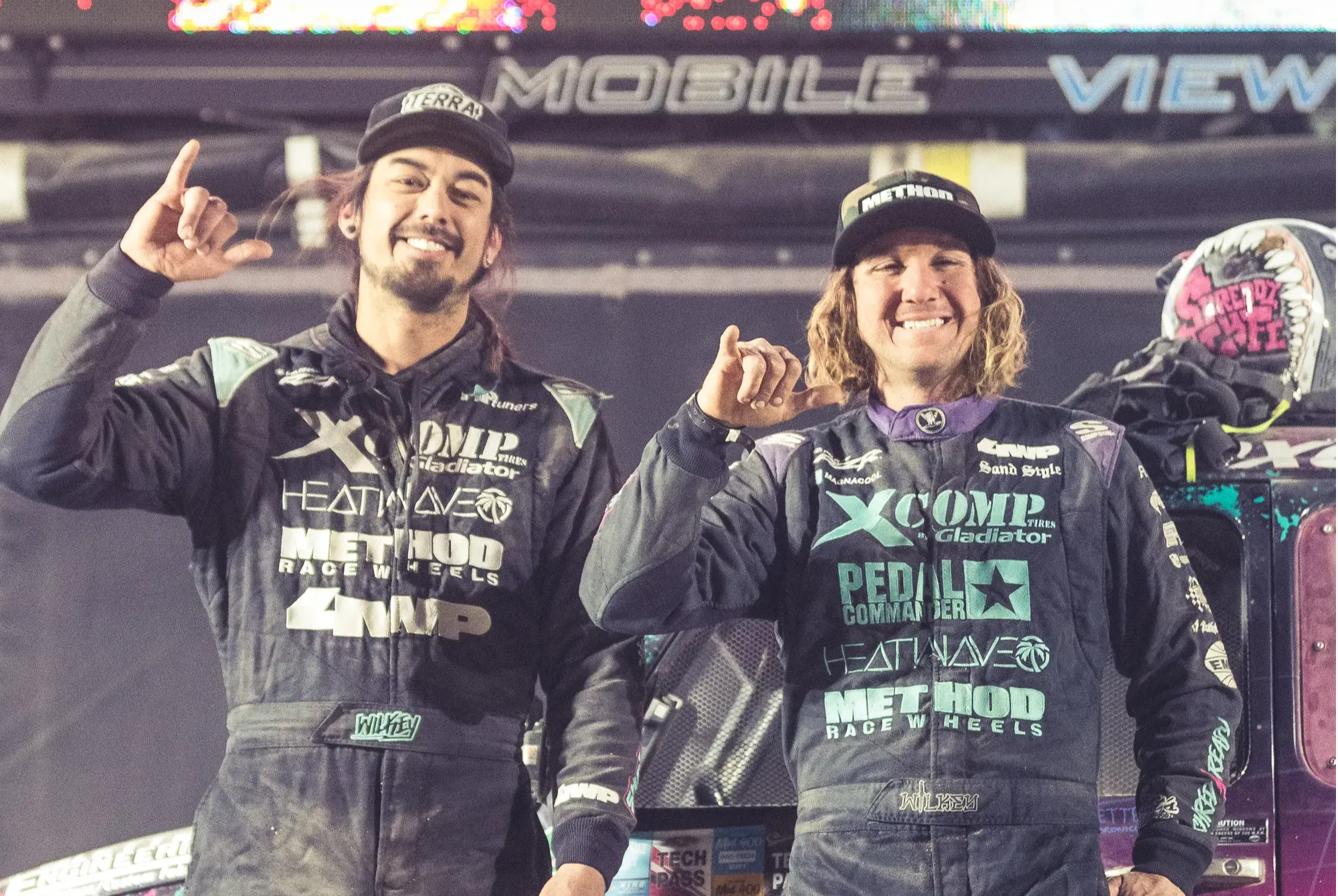 ---
1st Place - UTV Stock Turbo Class
4th Overall - Can-Am UTV Hammers Championship  

RJ Anderson decided to step into the arena this year and race in the Can-Am UTV Hammers Championship to see what King of the Hammers was all about after watching his brother Ronnie race as a top contender over the last few years, describing KOH as "hard to put into words."
"This was my first year doing the rock portion and it's insane just what we put our vehicles through in a short 160 miles," said Anderson. "There is literally a bit of everything out there."
When rock crawling, spotters are essential because the driver can't always see important course features such as big drops and rocks.
"Communication is always important, but I've never relied so much on my co-driver as I did in the rocks," said Anderson. "A lot of times, I am blind to the obstacles I'm climbing, so my co-driver was able to look out his side and coach me through."
Rock crawling sections are often slow-moving and it can get pretty toasty on the course when there is limited airflow circulating around you.
"You work up a sweat in the rock canyons!" said Anderson. "The variable speed pumper is the jam when it comes to cranking up the dial in those canyons."
Rugged is happy to provide such game-changing products for racers, making it so they can just worry about their race. Our number one priority is taking care of our racers and at King of the Hammers, the Rugged Garage is available to anyone in need of support.
"As a racer, we are always last-minute on something! Being able to stop by the Rugged Garage is always a life saver," said Anderson. "This year, I even ran over between the finish of the Ultra4 race and the Grudge Match to grab some last minute tear offs—talk about convenience, thanks Rugged!"
"I'll definitely be back to KOH in 2023, however I'm not sure it will be in the driver seat," Anderson laughed.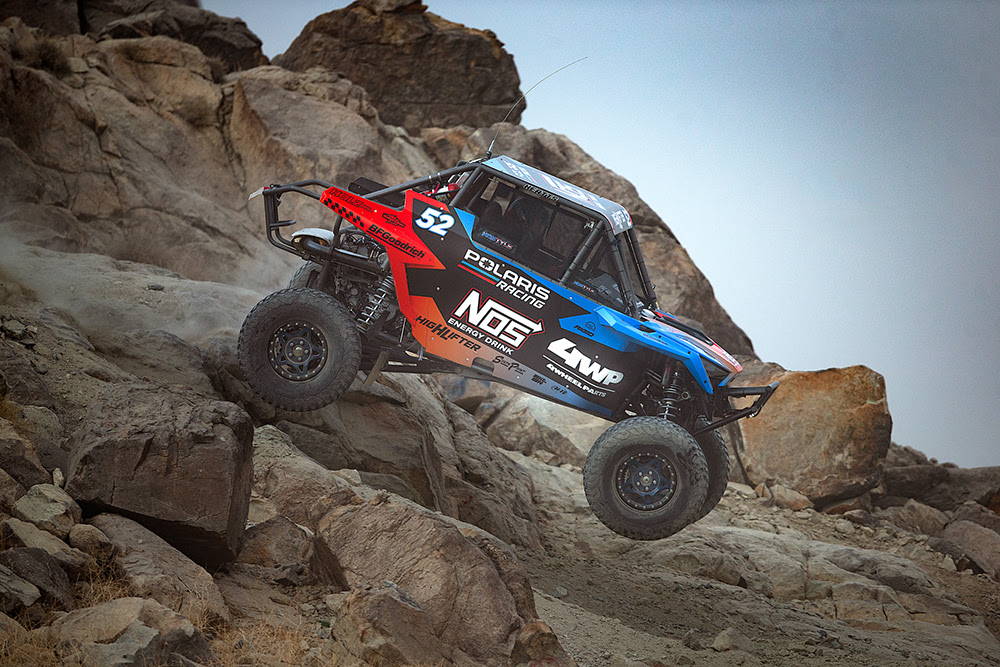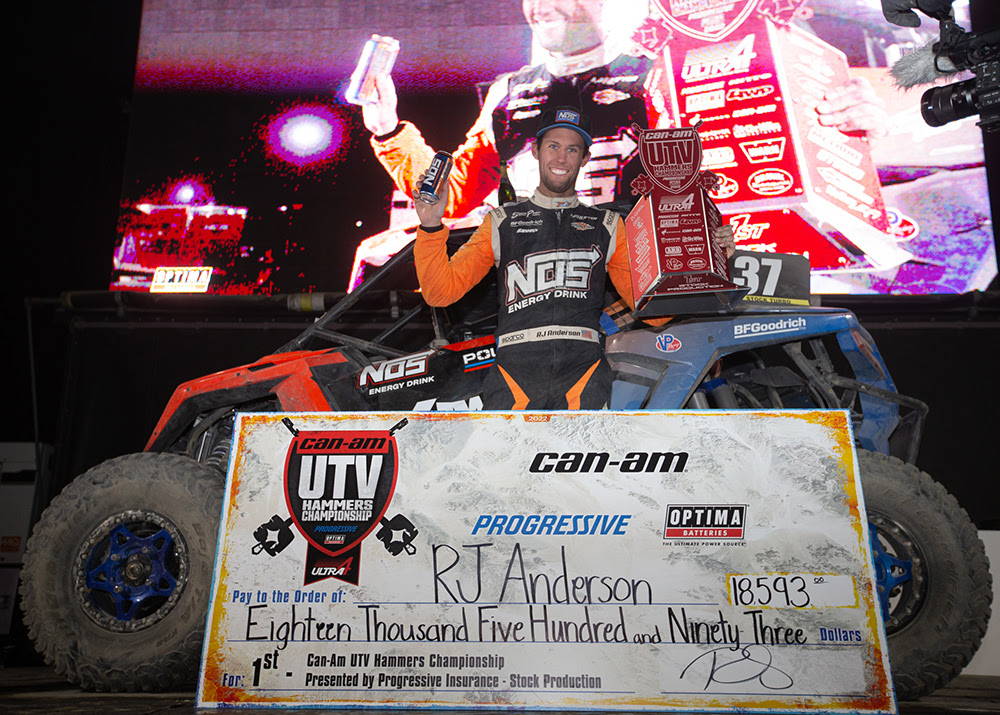 ---
1st Place - UTV Open Class
6th Overall - Can-Am UTV Hammers Championship

CJ Greaves raced his way past eight racers in the UTV Championship after qualifying 14th, taking home the win for the UTV Open Class and finishing 6th overall.
"Getting a win at KOH was awesome—super unexpected, but glad we were able to make it happen!" Greaves explains. "Our race was a roller coaster, we had a few problems in the first half, then we were flawless in the second half!"
Races aren't always perfect and hiccups are inevitable, but they are almost always surmountable with communication.
"[My Rugged] Intercom lets my co-dog and I have perfect, uninterrupted conversations throughout the race, keeping us moving in the right direction," said Greaves.
The phrase "it takes an army" holds true in most situations, but even more so in racing. It's important to have co-drivers, pit crews, teams, supporters, and sponsors that you can rely on to help you succeed.
"Being part of the Rugged family is definitely a blessing," said Greaves. "They are always pushing the limit and trying to improve their products for the team and I'm glad we are able to be a part of it!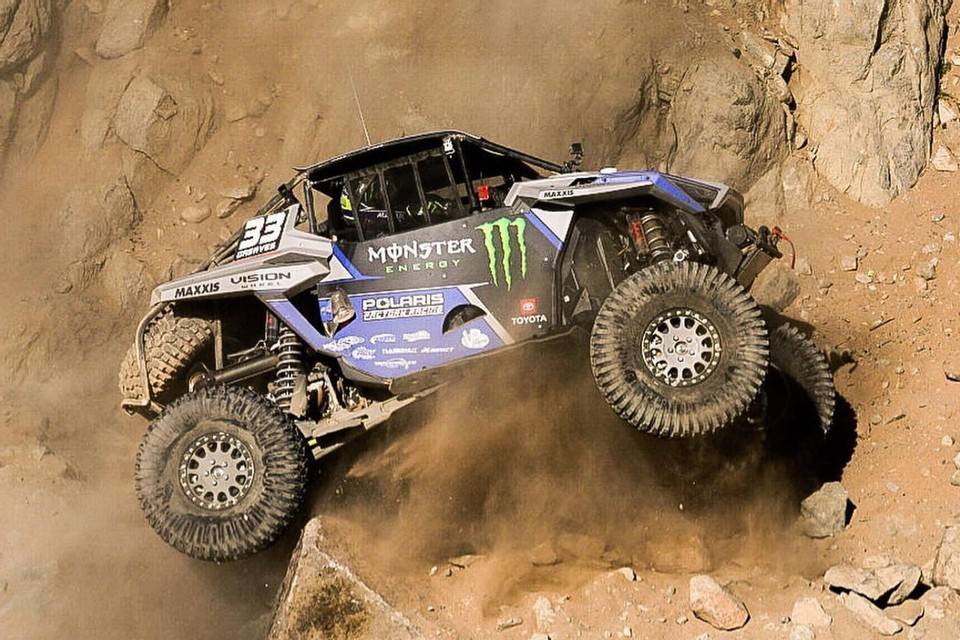 ---
1st Place - 4500 Mod Class
12th Overall - 4WP Every Man Challenge

The 4WP Every Man Challenge (EMC) is something special. It's where stock (or lightly modified) rigs get the chance to get in on the King of the Hammers action and compete in a race that is very similar to the main event. Crossing the finish line is a major accomplishment in itself for many racers.
John Mathews not only crossed the finish line this year for his third finish of his six KOH races, he won the 4500 Mod Class after qualifying tenth out of 100+ EMC cars!
"The course itself was a blast! I think it was just the right amount of challenge this year with some new desert sections and a couple of new rock trails," said Mathews. "I think throwing Turkey Claw in there at race mile two definitely made qualifying well even more important than in years past."
Rugged Radios believes that every racer deserves the highest level of support possible, which is why we are proud to offer our assistance to "every man" that tackles KOH and its gnarly courses.
"I would say being part of Team Rugged means you guys just always have our back," said Mathews. "We run your equipment not only because it's quality gear, but also because you're at the races to support us."
"We run a Rugged radio, intercom, pumper, etc. and it's all important—in-car communication, car-to-pit communication, etcetera," Mathews emphasized. "Dust was crazy this year, so the pumper is definitely an essential part of our equipment."
---
Grabowski Brothers Racing
DUSTIN | 2nd Place - Desert Challnege T2 Class
TROY | 2nd Place - Desert Challenge Class 5U

Grabowski Brothers Racing is back at it again, claiming podium finishes for Team Rugged in the Toyo Tires Desert Challenge Presented by Monster Energy. Dustin was back to claim his crown after winning at last year's King of the Hammers and Troy was racing Hammers for the very first time.
"KOH [this year] was bittersweet," said Dustin. "Super stoked on keeping my podium streak going, but I definitely wanted to defend my win from last year and be King of the Hammers once again."
Trying to see through the silt clouds while mobbing around on the race course can prove to be tough, and having fluid communication with your co-driver is something both brothers deemed essential to navigation.
"By far, the number one tool for this race was our Rugged Intercom," said Troy. "With the constant dust, it was key to have clear communication with my brother, Jack. Notes were more important this race than any other we've been in."
"Most of the race we were in dust, so getting clear notes from my navigator Cody is the most crucial part," said Dustin. "Without the Rugged Intercom I would just be driving blind."
Another great tool to combat the silt is the Rugged MAC Air Pumper—who doesn't like fresh air pumped into their helmet?
"The limited desert race at KOH was super fun but also incredibly dusty," said Troy. "The Rugged MAC Air Pumper let's me focus on racing and not battling silt in my helmet."
The last thing you want as a racer is for something to go wrong, but the Rugged Garage is always ready to offer support in the event that the unexpected happens.
"Unfortunately, we broke the antenna off right before the Prologue, so the Rugged Garage was a race saver," Troy explained. "They mocked up a quick antenna and coax system for us. Huge thank you to Rugged for the best support in the business!"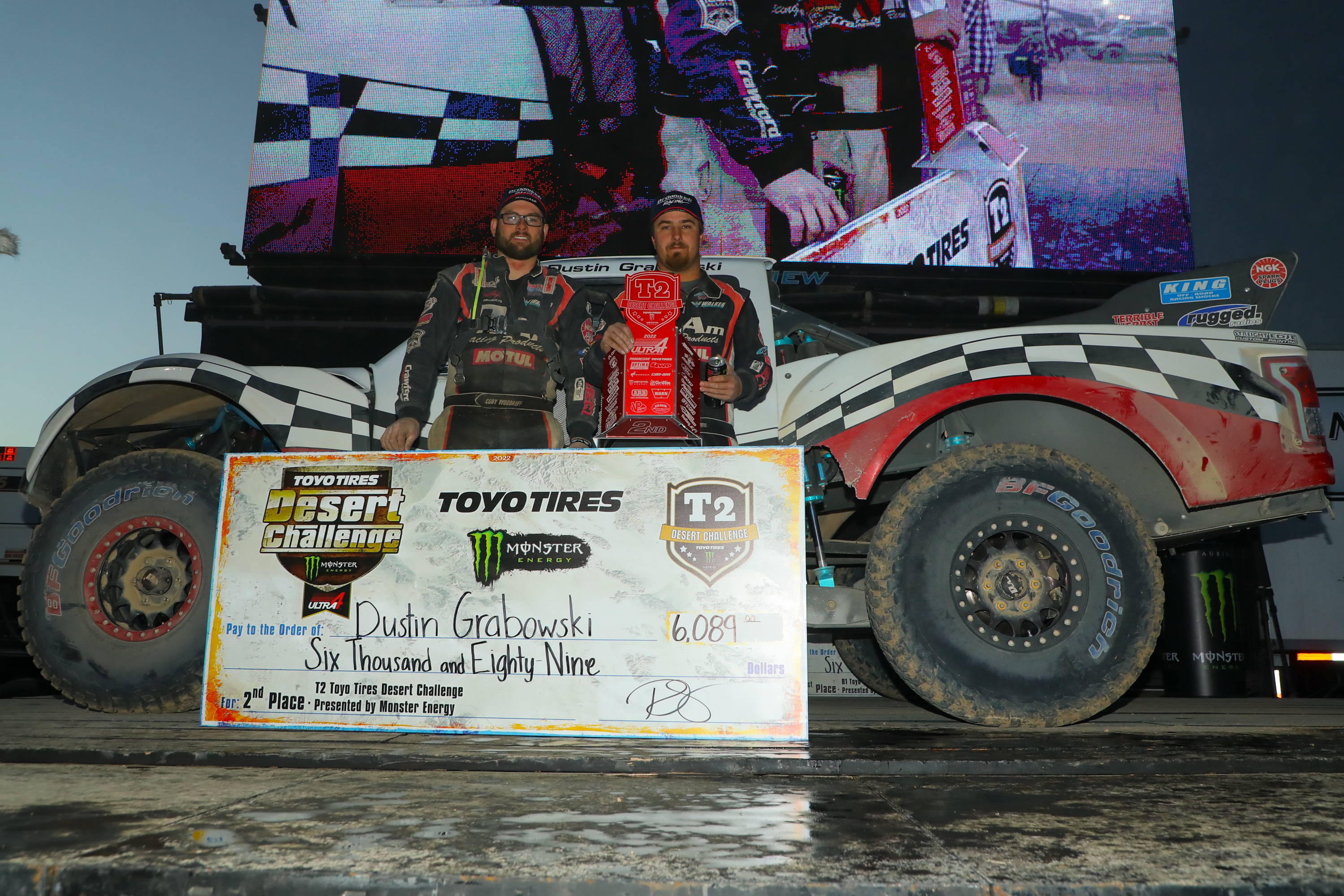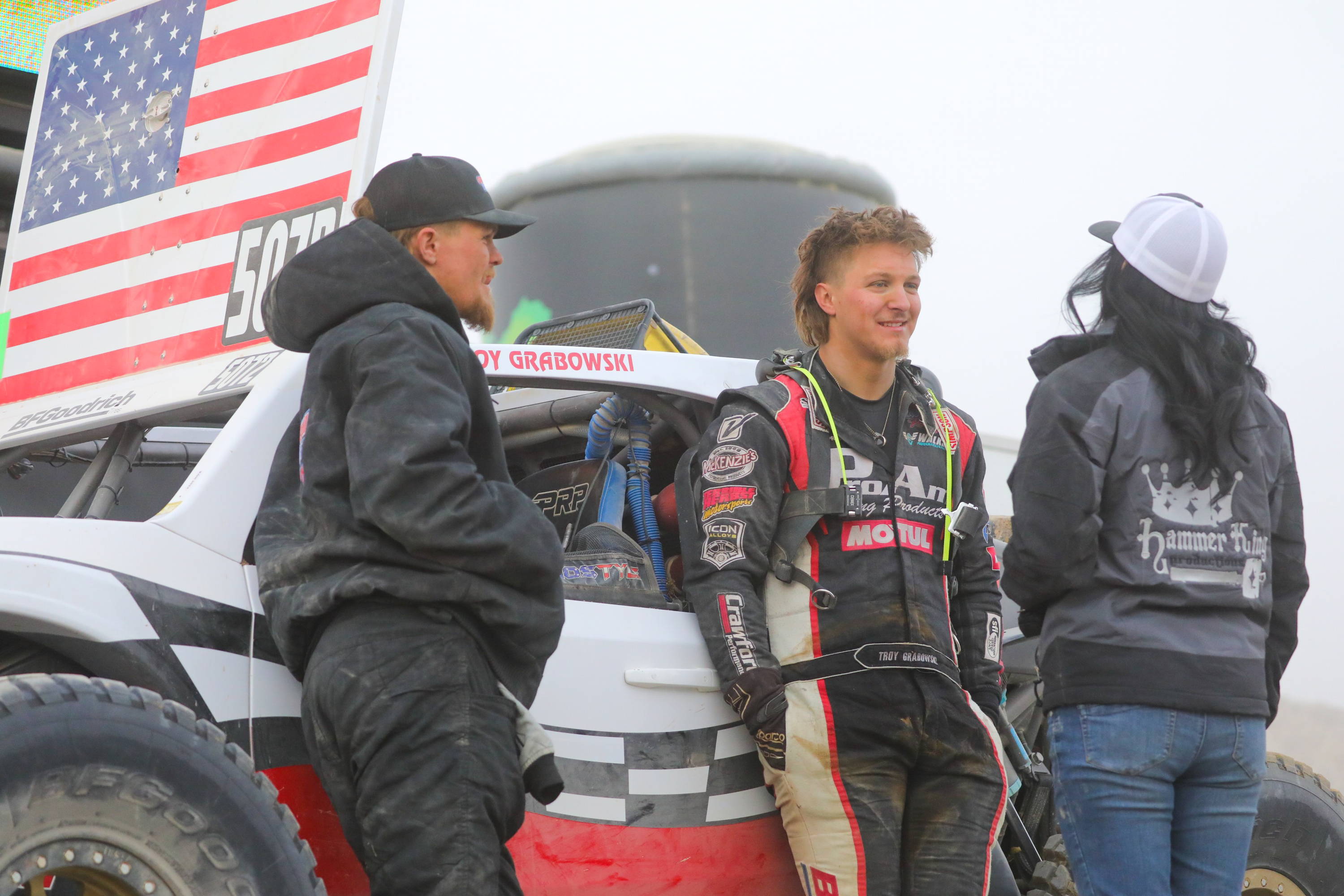 ---
2nd Place - Desert Challenge TL Class

In the TrophyLite Class of the Desert Challenge, Josh Cobb raced his way to a second place finish on the podium in his first year racing KOH.
"This is the first year we have been a part of KOH and been able to race it and it was a great time," said Cobb. "The course was my style of course; it was rough and technical, which I really think separates the men from the boys and definitely shows who has a better prep and set up of the truck."
Driving at high speeds on the open desert floor requires split-second decisions, something made simpler with high-quality communication products.
"Our truck is outfitted with the latest and greatest products in the radio and pumper game! Communication is so important out here in the desert because the first thing we do as racers is drive away from help," said Cobb. "Having crystal-clear communication with your navigator is critical because everything is happening so fast and every decision could affect the outcome of your race."
Efficient pit stops can be facilitated with the help of clear communication between racer and pits. Informing your pits when you need assistance is key to making sure they're ready when you get there in order to get you back to racing as quickly as possible.
"Communication with the pits is crucial because they have no idea what is going on out there," said Cobb. "The only thing they rely on is us to feed them information on the status of the truck and with the new Rugged M1 system, our communication is flawless and the team was ready for every pit.
Finally, managing the dust at 80mph. Need we say more?
"We all know how brutal the dust can be on the lake bed, but when you're chasing down a car at 80 mph, the dust is ruthless and the inside of a helmet getting dusted out is the difference between you making the pass or backing out of the throttle," Cobb elaborates. "Our Rugged Radios MAC Air system keeps the dust out and the air fresh in our helmets."
With his first King of the Hammers under his belt, he's more than ready to take on the 2022 racing season.
"The best we had ever done at the opening round was a 5th and that was 5 years ago. I think it shows we're ready to play this year and we're bringing our A-game. King of the Hammers just makes us hungry for more."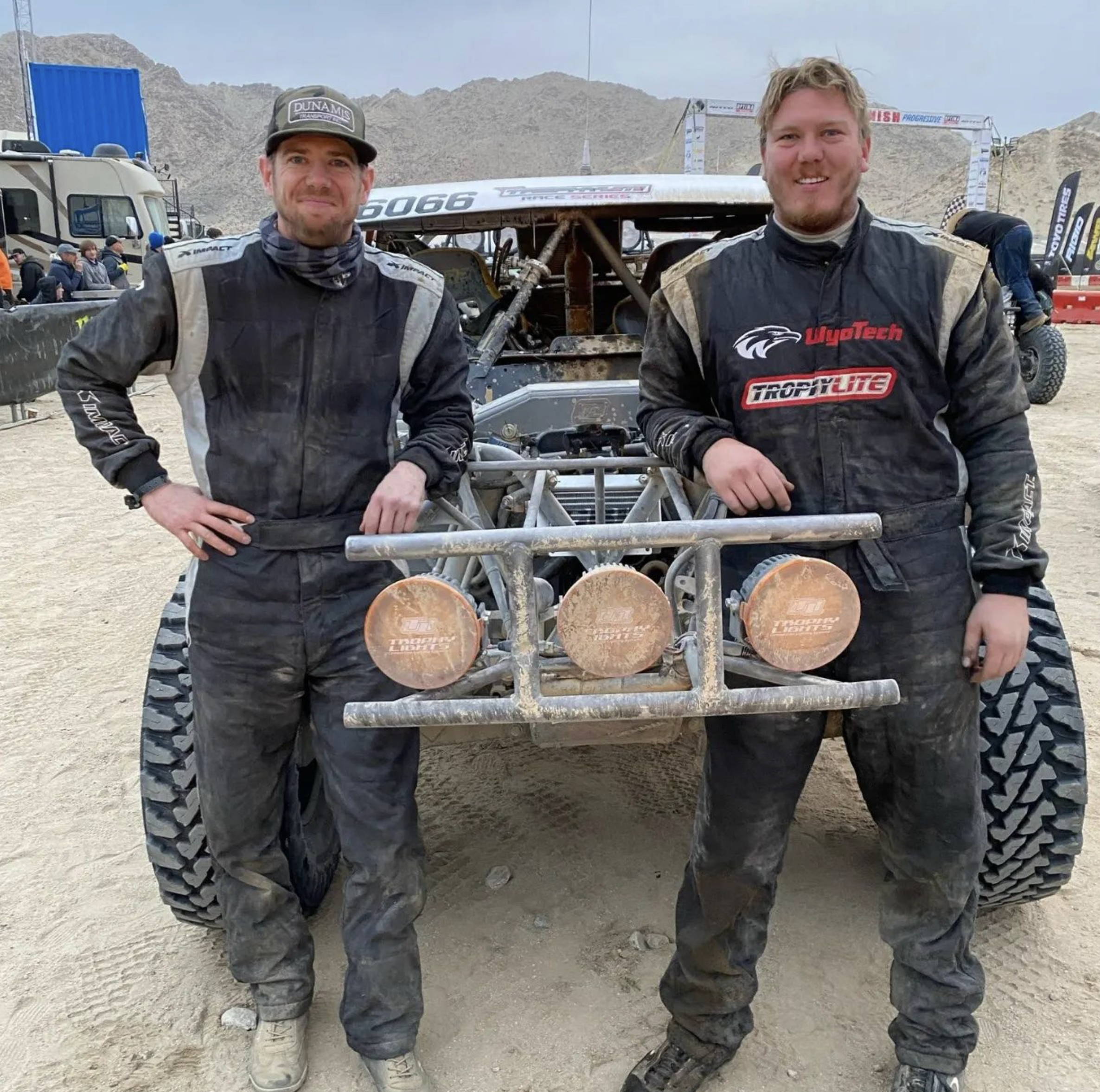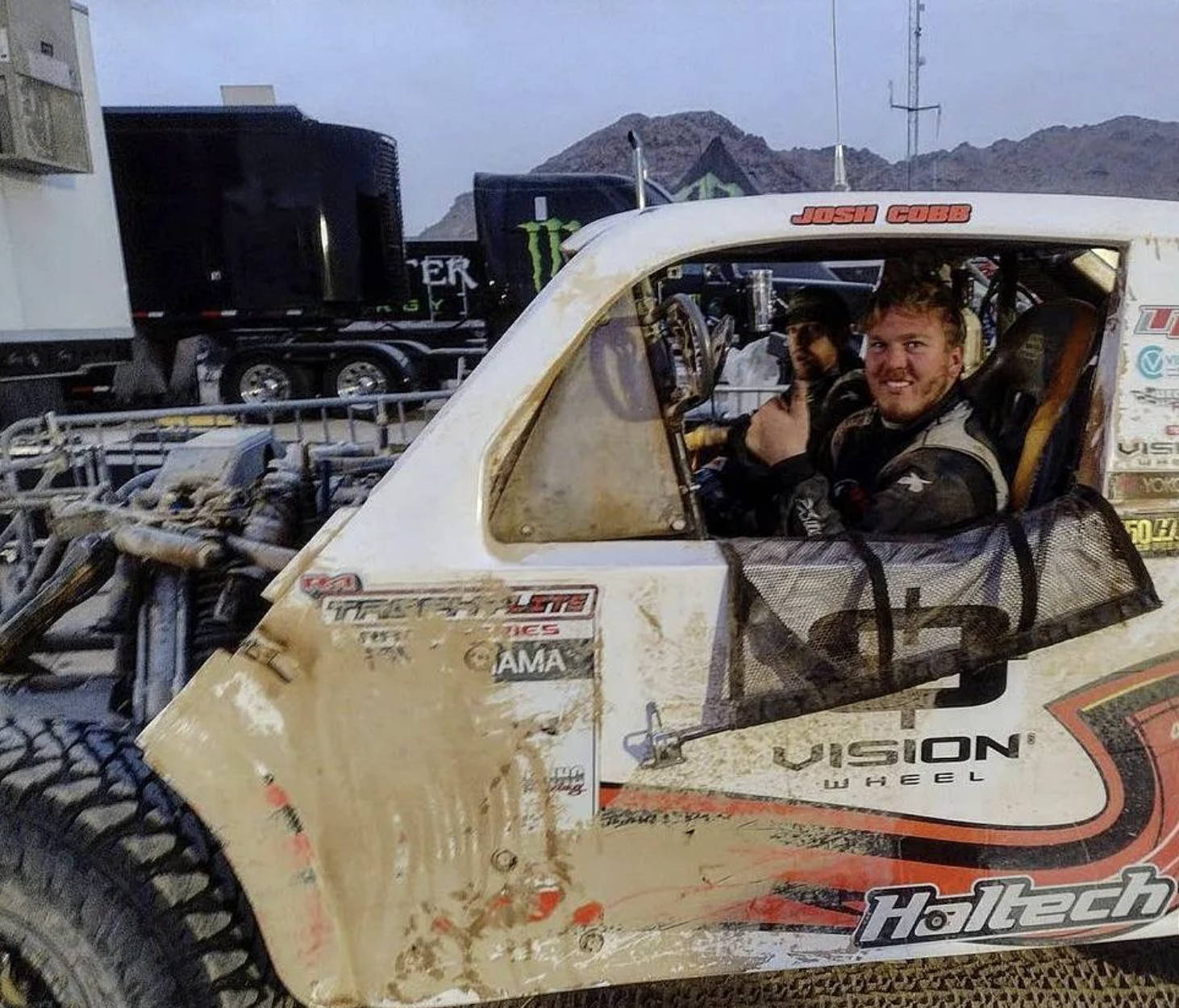 ---
2nd Place - Desert Challenge B2 Class
9th Overall - Desert Challenge LTD

It was an interesting morning for Matlock Racing when Kristen Matlock woke up to a frozen radiator on her car, but it turned out to be a successful day when Wayne was able to bring home a podium finish. After qualifying 14th, Wayne raced his way to 9th overall in the Desert Challenge LTD and took home a third place finish in the B2 Class.
It's one of Wayne's highest priorities to be able to communicate with his team, specifically Kristen, whether she's racing beside him or leading his pit crew.
"For me, [being a part of Team Rugged] is probably a little different than most. I not only trust in the communications for myself and my race, but also to communicate with my wife who is also on the track," said Wayne. "It's definitely a great peace of mind knowing we have a company like Rugged standing behind us 100%."
Radios communcation is a given for race day essentials, but there are other race day saviors that are sometimes overlooked, especially when nature calls.
"The other thing that people don't always think about is being strapped in the car for that many hours and having to pee," Wayne emphasized. "Rugged's catheters are a must have!"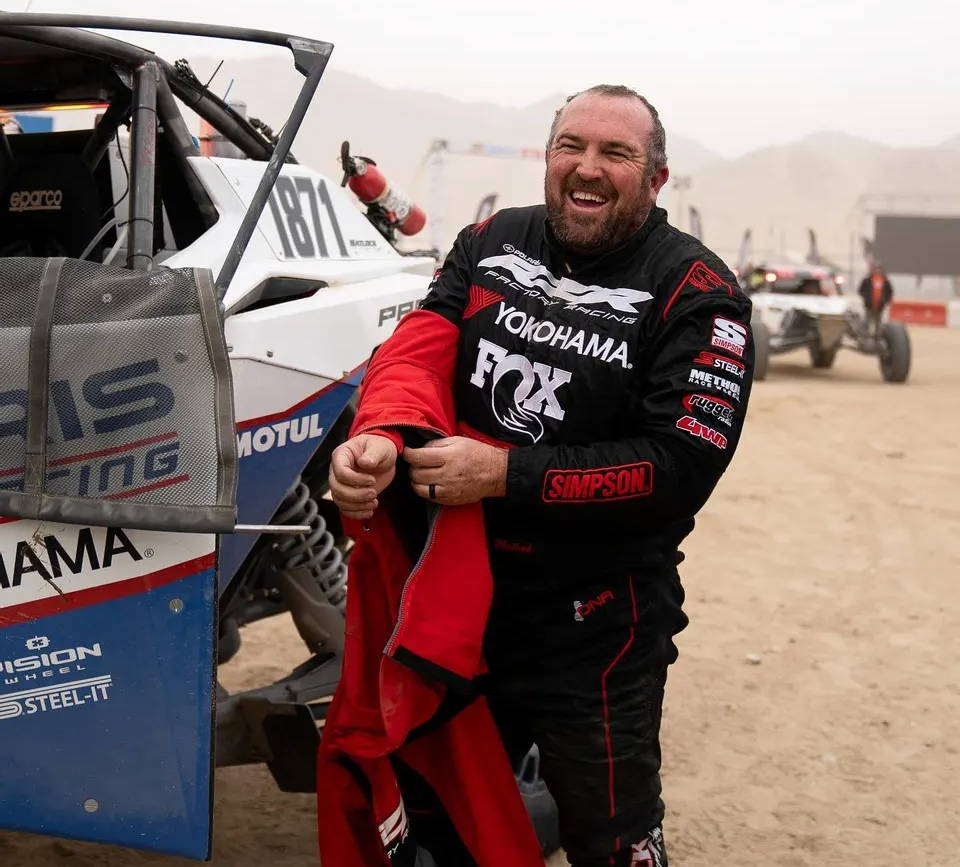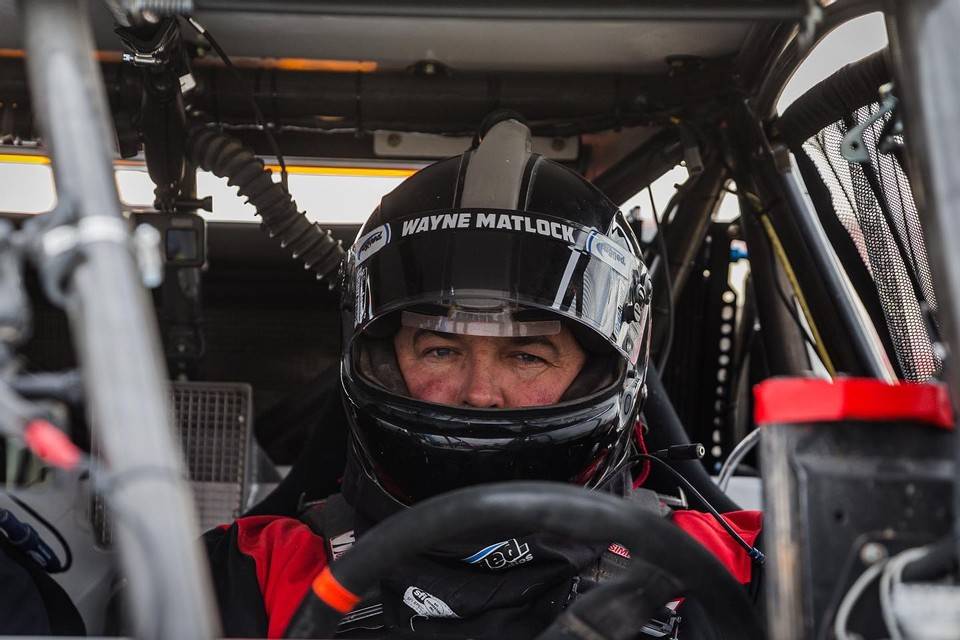 ---
3rd Place - UTV Stock Turbo Class
4th Place - Can-Am UTV First Ever Grudge Match
10th Place - Class 11 Showdown

Bryan Crofts accomplished some great things while at King of the Hammers this year. Racing in four races, he had plenty of chances to show off what he brought to the lakebed.
"KOH this year was very different compared to previous KOHs," said Crofts. "I'd say I reached many new goals this year such as qualifying 1st and taking pole position for the 4400 class and also learning to drive a UTV in the rocks."
Bryan Crofts' best race of King of the Hammers was the UTV Championship where he took 3rd place in the UTV Stock Turbo Class and 4th place in the Can-Am UTV First Ever Grudge Match that followed.
"The first annual UTV Grudge Match was the most dangerous and most fun thing I've done in a long time!" Crofts remarked.
His first, and favorite, race of King of the Hammers was the Class 11 Showdown, though, where he claimed a top 10 finish.
"I had the opportunity to race multiple classes this year but I'd have to say Class 11 was my favorite," said Crofts. "It's a driver's class, it's really giving the opportunity to show the talent of each driver on the track seeing how each bug is similar because of class restrictions."
Crofts races Ironman, or without a co-driver, while racing Class 11 and UTV, but enjoys having in-car communication via his Rugged Intercom when he races 4400.
"After running the Class 11 & UTV at the beginning of the week, you forget what it's like (in a single-seat car) to have an intercom system that allows you to have clear conversations with your co-driver," explained Crofts. "I'm very lucky to be running some of the best products on the market."
Another game-changer for all classes is the Rugged Pumper that acts as temperature regulator for racers in hot and cold temperatures.
"I am also running a Rugged Radios pumper that keeps me cool with fresh air all day and stops my visor from fogging up on those cold mornings," said Crofts.
Crofts came by the Rugged Garage, like many other racers, to make sure his equipment was dialed and ready to get him across the finish line. The Rugged crew was able to help with "tuning [his] radio, making sure [his] helmet was clear through other radios, and installing the new latest greatest antenna cable!"
---
3rd Place - Desert UTV Pro Class
14th Overall - Desert Challenge LTD

Ryan Piplic was another Team Rugged KOH newbie to take his first steps on the Johnson Valley lake bed this year.
"[My] first time was a little bit of a shock!" said Piplic. "Having never been to Johnson Valley/KOH was an experience and fun, a lot of promoters can take notes on! I for sure will be back next year!"
Equipped with his Rugged communications and racing equipment, Piplic was ready for whatever the Desert Challenge was going to throw at him.
"Everything I use from Rugged is to serve a purpose and I could not get to the finish without them!" Piplic confidently said. "From clean air when pushing through some of the worst dust to having clear communication from my co-driver and to my pits is key to any program; I couldn't race without Rugged at this level!"
We're all one big happy offroad family and that is only exaggerated when everyone is brought together to the bustling pop-up town of Hammertown. Everyone is either a racer or an enthusiast and the Rugged Garage acts as the support garage and home base for many!
"The help from the Rugged crew is top notch! No matter the problem or question or upgrade, they make sure everything is taken care of," said Piplic. "Also, the crew had some extra food for my kids to munch on, so it feels good to be treated like family at KOH or at any Rugged event!"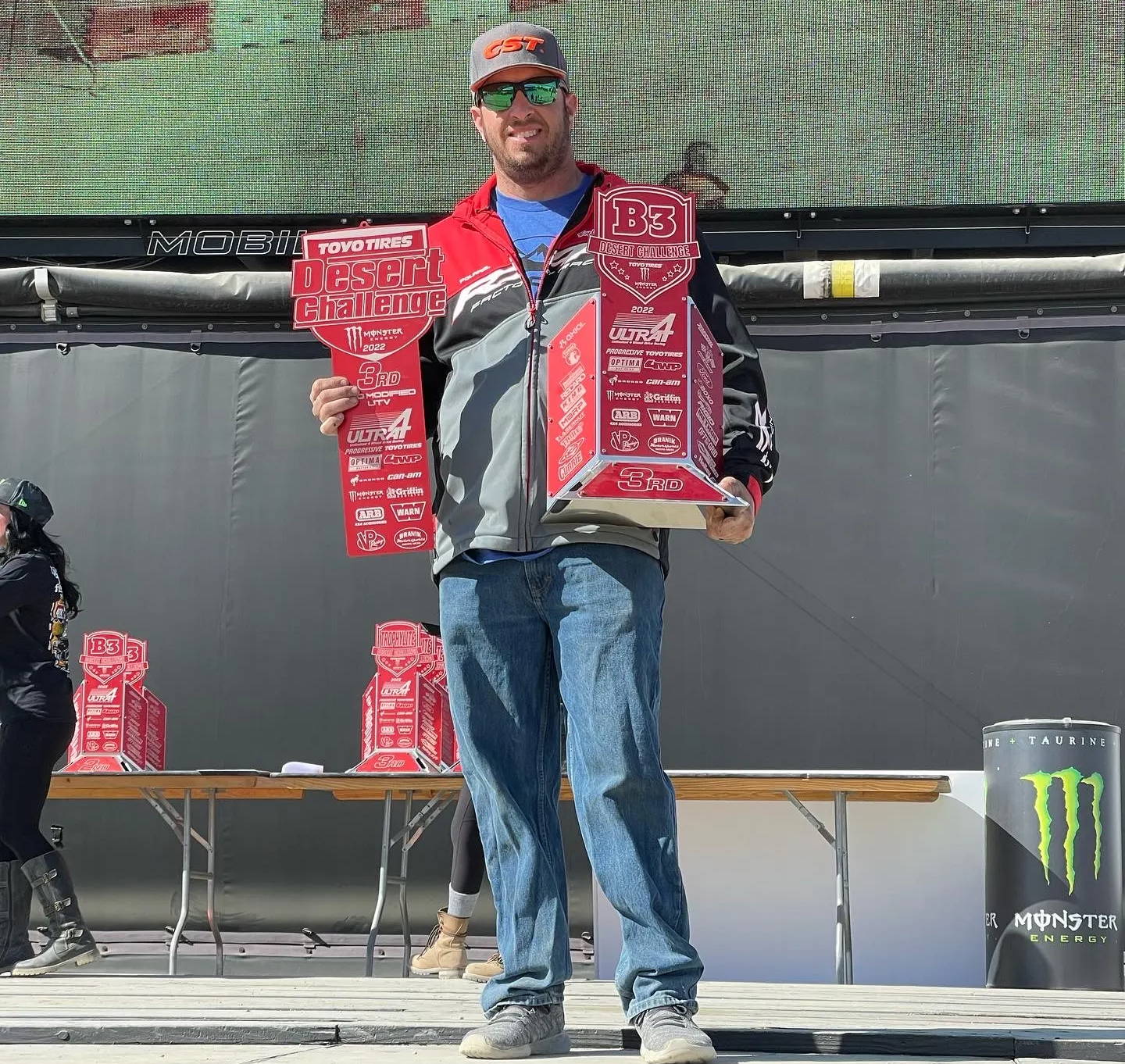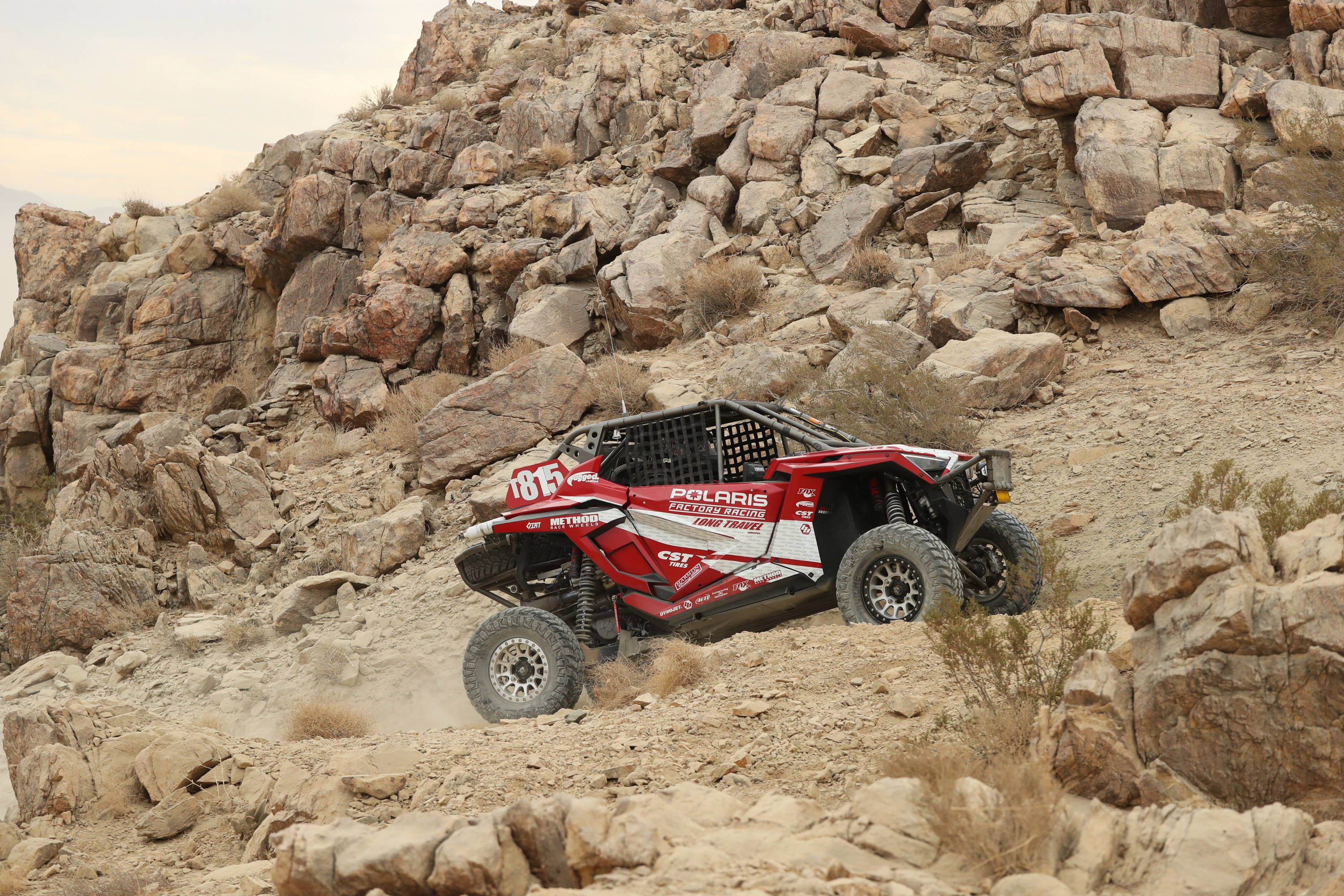 ---
Other Team Rugged Racers with Top 10 Finishes
Vaughn Gittin Jr (1st Place - 4600 Stock Class, 5th Overall - 4WP Every Man Challenge, & 6th Place - Race of Kings 4400 Unlimited)
Jason Scherer (2nd Place - Race of Kings 4400 Unlimited)
Jeremy McGrath (2nd Place - UTV Stock NA Class)
Josh Blyler (3rd Place - Race of Kings 4400 Unlimited)
Brock Heger (5th Place - UTV Pro Mod)
Craig Scanlon (5th Place - Desert Challenge UTV Pro)
Erik Miller (5th Place - Race of Kings 4400 Unlimited)
Luke Knupp (5th Place - Desert Challenge TL)
Scott Foley (5th Place - Every Man Challenge 4800 Legends)
Brad Lovell (6th Place - Desert Challenge T2)
Branden Sims (6th Place - Desert Challenge UTV Pro & UTV Pro Mod)
Jeff Wykoff (6th Place - Class 11 Showdown)
Justin Hall (6th Place - Every Man Challenge 4500 Mod)
Shannon Campbell (7th Place - Race of Kings 4400 Unlimited)
Sara Price (8th Place - Desert Challenge T1)
Toney Howard (9th Place - Every Man Challenge 4800 Legends)
Jason Cobb (10th Place - Desert Challenge TL)
John Webb (10th Place - Race of Kings 4400 Unlimited)
Kyle Wickham (10th Place - UTV Grudge Match)
Travis Williams (10th Place - Desert Challenge T2)